Short-term therapy and long-term nursing care in our award-winning community.
At Hubbard Hill, individual attention and hospitality are priorities. Whether facing short-term rehabilitation or long-term nursing care, residents and their families work with our interdisciplinary team to create a personalized plan of care and services designed to meet their physical, emotional, spiritual, and social needs and goals.
Around every corner and at the end of each hall, another beautiful view awaits. Our unique design provides easy access to several lounges, a therapy gym, spacious dining rooms that serve delicious meals, and fireplaces, as well as gazebos and courtyards landscaped by our master gardener. We honor the spirit and legacy of our founders by offering compassionate quality care and services in a Christian environment.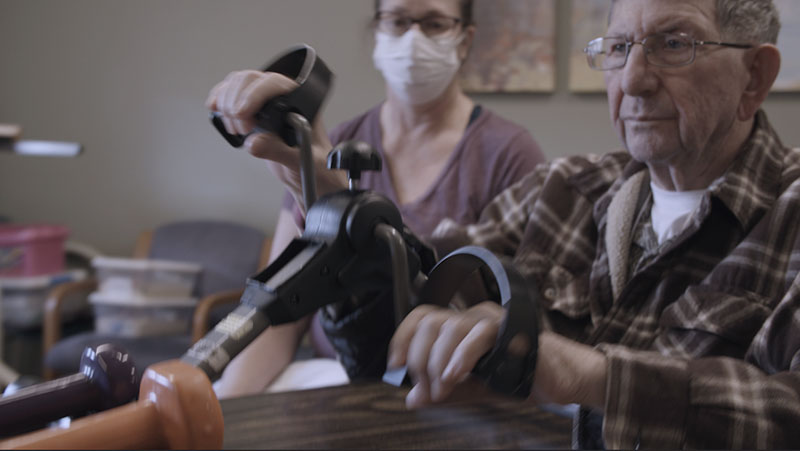 ---
Hubbard Hill's expert rehabilitation team provides high-tech intervention to assist in fast, effective recovery while guests enjoy our comfortable, private suites.
We feature Biodex and the Accelerated Care Plus System, which provide assistance with pain management, fall prevention, contracture management, incontinence improvement, and wound healing, as well as improvement in muscle weakness.
Our rehabilitation center at Hubbard Hill offers private suites for maximum comfort and privacy. Each suite is equipped with a private bathroom, television with Satellite service, telephone with free local calls, and comfortable lift recliner. All meals, snacks, laundry, and housekeeping services are included. Residents dine in their own private dining room, enjoy beautiful views, have free access to the internet, and may take advantage of the many campus amenities.
Residents can choose to be followed by our Medical Director or can retain their own physician.
Licensed occupational, physical and speech therapy services available
Podiatry, optometry, massage therapy, and beauty salon services available
If residents are not able to return home, Hubbard Hill offers a variety of apartment styles to accommodate their needs in a licensed residential setting
---
Hubbard Hill offers long-term nursing care for residents who may not be able to return home. Our long-term care features private and semi-private suites, and intermediate and skilled care are available.
Residents enjoy their own elegant dining room with scenic views of our beautiful campus and Angel Garden, as well as activity programs. All meals, utilities, telephone with free local calls, satellite TV, and laundry services are included in the monthly fee, and internet access is available. Residents may take part in Hubbard Hill events, and a passenger bus is available for regular recreational outings. A Wellness Director plans recreational activities, exercise, musical and drama programs, as well as arts and crafts; you may even see residents enjoying a game on the Wii.
Licensed occupational, physical, and speech therapy services are available on-site. The nursing staff of Hubbard Hill includes a full-time Director of Nursing Services, Assistant Director of Nursing, Vice President of Quality Management, MDS Coordinator, registered nurses, licensed practical nurses, certified nursing assistants. and qualified medication aides. To ensure the highest level of professionalism in all service areas, Hubbard Hill also employs full-time directors in the following disciplines: environmental services, maintenance, social services, wellness, culinary services, business office services, community liaison, marketing, assisted living services, therapy services, and information technology. There is also a consulting Dietician and a variety of administrative support staff. Because of our faith-based mission, we employ a full-time chaplain with 24-hour availability to our residents.
Private and Semi-Private Suites
All utilities
Phone service, including local calls
Individual heating and air conditioning
High-speed internet service
HD TV
Meals served restaurant-style in rustic-elegant dining rooms
Snacks and beverages available 24 hours a day
Dietician services
Pharmacy services available
Podiatry services
Lab and x-ray services available
Optometry services
Smoke detector and sprinkler system
Housekeeping
Laundry service
Linen change service
Maintenance
Beauty salon
Massage and reflexology therapy services
Supportive nursing services available, such as: medication management, assistance with showers or bathing, glucometer testing, insulin and other injections, Mantoux testing, and physician-ordered treatments, vital signs, and oximeter readings
Speech, occupational, and physical therapy
Semi-private and private suites
Library with internet access and Skype
Computers
Licensed nursing staff
Medical Director
Bistro
Beauty salon
Massage therapy and reflexology
Wellness programs and special events
Arts and crafts classes
Wellness Center with exercise classes and Wii
Two passenger buses and van with wheelchair accessibility
Transportation on outings
Beautiful Angel Garden Park with sitting areas
Spectacular wooded views
Catch-and-release fishing ponds
Spacious therapy gyms overlooking the ponds
Private speech therapy gym
Limousine
Private meeting rooms for special events
Religious services
Meditation room
150-seat chapel and auditorium
Chaplain services
Resident council
Volunteer programs
Banking, notary, and dry cleaning services available
On-site licensed speech, occupational, and physical therapy services available
Podiatry, audiological, and optical services available
Psychological services available
Sprinkler system
On-site campus security